Hotel Introduction
Located in Taipei most convenient transportation beside Taipei Railway Station.Our concept is initially from Japanese capsule hotel, which use space in a very intense way, but in order to satisfy to our mainly Chinese guests, we also solve the Soundproofing and privacy problem of the traditional Japanese capsule hotel at the same time. However, a Taiwanese Urban style hotel- "Inn Cube", OPEN!!
Tel:02-2311-4511
Hotel Address:10F., No.13, Gongyuan Rd., Zhongzheng Dist., Taipei City 100
Room Introduction
Capsule space (1.2 to 1.5 tsubo) inside, all equipped with air conditioning, desk, television, wireless Internet access.
Leisure Facilities
With sitting area (tourism stacks, coin-operated computers), coin-operated washing machine tumble dryer equipment
Restaurants
Inside the inn no restaurant, but there are many restaurants near the hostel.
Peripheral Scenes
•Ximending•National Taiwan Museum•228 Peace Memorial Park•Office of Present, Republic of China•CKS Memorial Hall•Longshan Temple
Directions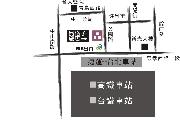 •Taiwan Taoyuan International Airport → Inn Cube1.Bus: There are several publis bus to Taipei Station in the airport (Ex: KOU-KUANG Motor Transport, CitiAir Bus), it takes a 50~90 minus to Taipei Main Station. From bus stop, walk through underground to M8 exit, access to the hotel. 2.Taxi: Abour 1,200TWD.•Taipei International Airport → Inn Cube1.Bus: Take No. 262 or 5, to Taipei Station. Bus fee: 15TWD.2.Metro: Take Metro Wenshan Line (Brown Line), transfer to Nangan Line (Blue Line) at Zhongxiao-Fuxin Station, go 4 stops to Taipei Station.3.Taxi: Around 200 TWD by meter.•Taipei Station → Inn Cube 1.Taipei station is contained of "Taipei Railway Station(By Taiwan Railway Association, TRA)", Taipei Main Station(by Taipei Metro, MRT), and Taipei High Speed Train Station (HSR), walk through underground to M8 exit, access to the hotel, which in the first building.